Overview of Dublin
Dublin's commercial growth since the late 90s has been a huge success story not only for the city but the country as a whole. During this period it has come a long way from its agricultural roots and now flourishes as one of Europe's fastest-growing economies. Many of the world's largest companies have relocated in recent years to set up their European headquarters in the city and in a post-Brexit world, it is sure to attract many more.
Search our available offices to rent in Dublin >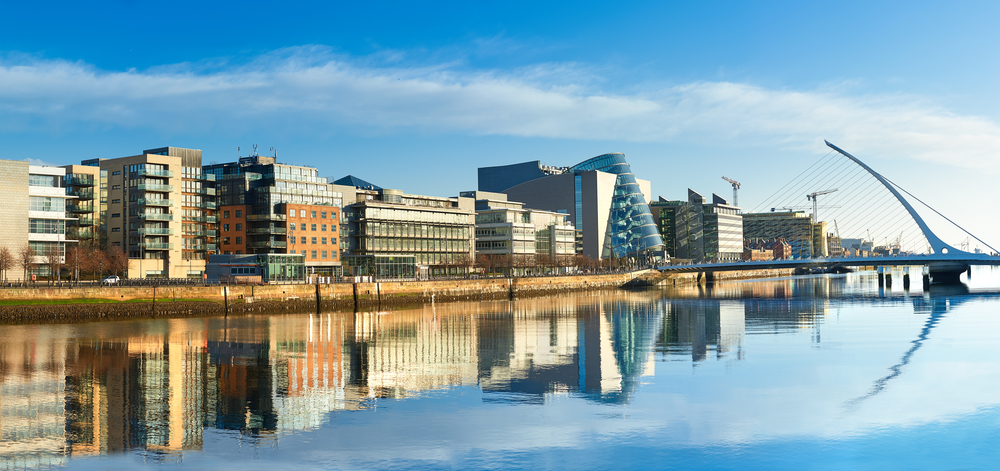 The city is situated at the head of a beautiful bay, with the River Liffey running through the centre of the capital from the Irish Sea on the east coast. Stunning mountain ranges and the gorgeous countryside is located only a short distance away from the city, and the people of Dublin have long had a reputation for being friendly and welcoming to newcomers.
There are approximately 1.1m people living in Dublin, and as of 2019, employment rates were at their highest in 20 years, with over 700,000 in work. The tourist industry is doing particularly well, offering a significant contribution to the €9 billion generated by the industry across Ireland.
Dublin is a fairly easy city to navigate on foot, and it also has a great transport network. The Dublin bus service runs across the capital, and DART (Dublin Area Rapid Transport) and the Dublin MetroLink offer reliable train links. Dublin Airport is the main airport in Ireland and sits just outside the boundaries of the city to the north. There are regular flights into the UK every day, and a fast journey time of just over an hour to London Luton Airport makes it a relatively easy one.
Economy
As a country, Ireland's economic growth over the past 10-20 years has been remarkable, reaching an all-time high of $283 billion in 2015. That growth has also been seen in the capital, which in 2014 represented 47% of the country's entire GDP.
A change in economic strategy during the 1990s can be credited with boosting Dublin's financial growth. It was referred to as the "Celtic Tiger" period, which moved away from a reliance on traditional manufacturing and agriculture, to encouraging inward investment, business start-ups and growing the tourism sector.
This also saw the establishment of the International Financial Services Centre in 1987, with sectors such as digital media, information technology, financial services and pharma all expanding in size over the past couple of decades. The arrival of several multinationals has also seen recruitment levels rise, with 250,000 workers now employed by these types of companies alone.
Which businesses are in which areas?
Dublin attracts a wide variety of businesses, with some of the biggest brands in the world setting up headquarters in the city. This includes the likes of Facebook, Twitter, Google, LinkedIn, Airbnb, Deloitte and Dropbox. Over the past few years, construction has started on a large number of new office spaces, with serviced offices, in particular, becoming a cost-efficient option for businesses of all sizes.
A large number of companies are located in the CBD, which encompasses Dublin 2 and 4 (postal districts in the city that are found to the south and southeast of the River Liffey). This area has a good balance between period Georgian properties and office blocks that have been built in the modern era.
Elsewhere, the Silicon Docks, which is situated by the Grand Canal Dock, gets its name from the many tech companies that have set up European headquarters in the district. As well as the aforementioned companies above, Silicon docks also plays host to Amazon, HSBC, Accenture and many more.
This number is set to grow over the next few years, as a number of EU businesses that were previously based in London look to relocate post-Brexit. The migration began in 2020 ahead of the finalisation of the Brexit deal, with Dublin proving to be the most popular destination for financial services companies moving out of the English capital.
Dublin Rental Guide
Rental prices for offices in Dublin vary across the board, depending on the type of space you want to use.
We've put together a short average price guide for offices in Dublin*:
| | | |
| --- | --- | --- |
| Hot Desk | Dedicated Desk | Private Office |
| €100 - €200 | €175 - €400 | €200 - €1,000 |
*Guide prices per person per month, excl. vat.
Offices to Rent in Dublin
If you are looking for a new office to rent in Dublin, you can start your search right now by getting in touch with the Price Office Search team. You can also use our online listings to see what offices in Dublin are currently available.
We have a wide variety of offices to choose from, so whether you are searching for a serviced office, managed office, co-working or virtual space, we'll be able to help. Once we understand more about your business and office requirements our experienced team will match you with a variety of options.
At Prime Office Search we work with businesses and organisations that operate in a wide range of industries. Our advice is free and impartial and we always look to find you the best possible deal on the market. No matter how large or small your business, our team will work closely with you to find an office space in Dublin that can help you maximise your commercial opportunities.